Dolphins, Sharks, Polar bears, Unicorns, Monkeys, and Dragons – the VC-language continues to adopt animal names to classify themselves, founders, and startups. As amusing as this was to learn at the Global Summit event in Paris, earlier this March, I was intrigued deeply by the emerging Deep Tech innovations that are truly going to change this world, mostly for the better.
Deep Tech typically refers to those startups deploying high tech innovation in engineering, or significant scientific advances. This is usually not focused on end-user services but rather artificial intelligence, advanced material science, robotics, blockchain, photonics & electronics, quantum computing, biotech and similar that can significantly impact or even disrupt any industry.
Most shallow tech today, was at some point, Deep Tech.
And it takes an eco-system of researchers, founders, investors, corporates, government regulators and other risk-takers to enable Deep Tech to progress and scale. One such eco-system in Europe is curated by Hello Tomorrow, that brought together over 3000 such deep tech enthusiasts in Paris at the Global Summit event. We at RunwayFBU, our sibling Atoma Capital and several others from the Nordics eco-system had the pleasure of participating and learning from it.
I was fortunate to meet and connect with several Industry experts, that led to some honest and radical discussions around Deep Tech and its impact on Decarbonized manufacturing, Energy transition, Clean mobility, Sustainable food systems and otherwise scaling deep tech to truly create a global impact.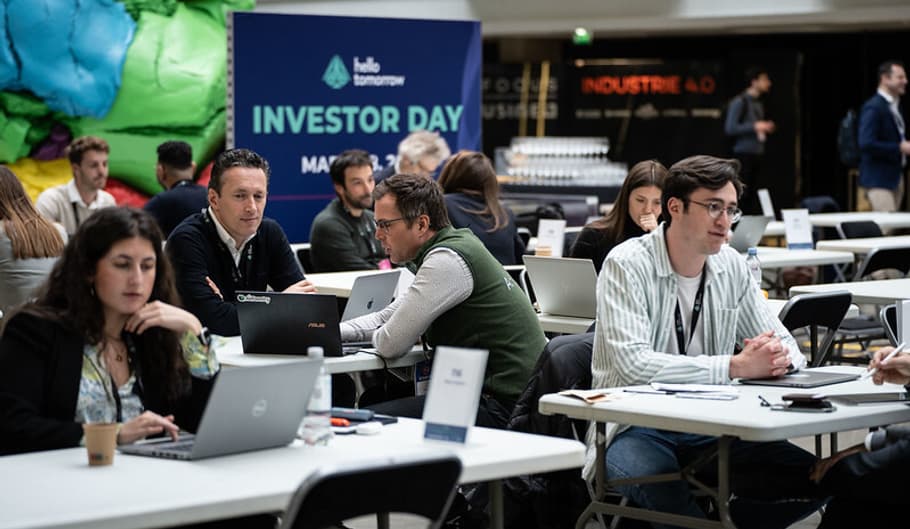 Some of my key takeaways:
On Energy - it was a pleasure to listen to and connect with Europe's leading experts within Energy, such as Laura Cozzi (Chief Energy Modeler, International Energy Agency) and Ann Metler (VP Europe, Breakthrough Energy), who reiterated the need and potential with clean fuels, emphasizing long term energy storage and green hydrogen as two of the key pillars of the future of clean energy. We could not agree more, as we currently host Powely at our Tech Hub and have on-boarded Kristian Røkke, CEO Aker Horizon, as an Advisor to our founders. Aker Horizons was established in 2020 and has several renewable energy related investments and ventures.
On the Industrial value chain - Deep Tech innovation in the next years is also going to erupt within the Industrial value chain – from design, raw materials, manufacturing, commercialization, and the end of life. Hello Tomorrow's team together with BCG mapped out the various investment opportunities within this value chain as well as other systems such as Food, Chemistry and Advanced Materials. Deep Tech inherently brings with it, the promise of sustainability, efficiency, and resiliency within any Industry. We at RunwayFBU strongly believe and invest in the same principles, take for example Celsia, Sparkel and Shapemaker to name a few.
On creating global impact - but building truly global companies, and creating worldwide impact requires immense scale, and the network to support it. A common theme with new ground breaking innovation was to follow the regulations as those typically dictate and direct funds towards specific opportunities. As an example to promote Solar PV module manufacturing, the Indian government pushed a favorable policy in 2022 that is already reducing the dependence on China. Or how Norway aims to lead the world in Zero-emission electric short-haul flights by 2040 is now attracting talent, and investments, from around the world to deliver on that promise.
Most important takeaway from the conversations was to ensure capital is raised or borrowed from providers that understand the struggle of scaling Internationally, have long-term investment mandates, and provide a supportive organization and eco-system. Within Industrial Software – this is one of the principles that RunwayFBU believes in. Apart from funding startups, we are also actively developing an Industrial eco-system to facilitate founders to scale.
On the eco-system - some amazing people I had the pleasure to speak with, who I believe think very much alike and are building for International scale - Angeliki Rigos (MIT Energy Initiative), Lana Graf (VC Deep Tech at International Finance Corporation), Robert Gallenberger (partner at Matterwave Ventures), Paavo Raisanen (partner at Maki.vc), Yair Reem (partner at Extantia Capital) and so many others that the Hello Tomorrow team successfully brought together.
Last, but certainly not least, a big shout out to the Deep Tech Alliance team (Thomas Klem Andersen , Magnus Melander, Jakob Heiberg!) and all our Deep Tech Alliance partners for engaging conversations and fostering a fantastic eco-system!
Photo credits: Hello Tomorrow