For our 5th edition of Faces of RunwayFBU, we invited Evan for a coffee to learn more about him, the company, and his goals for 2023.
Evan considers himself a global citizen and a very active person. With experience living in different countries, including Australia, Denmark and now in Norway, Evan splits his time between triathlons, family (and his one and half year-old daughter), and being the Chief Product Officer and co-founder of Shapemaker.
His office day starts on the train. He takes the 2-hour commute to concentrate, form the day's strategy and prioritize. "Then of course, in the office I meet my team, we plan our work and break down some tasks aligned to what is happening", explains Evan.
Evan and the Shapemaker team are tackling a telecommunications problem, associated with analysis and design of telecom structures like towers, monopoles and guyed masts. "Overall, we are working on automating the engineering processes and take them from weeks – what an engineer usually takes to design – down to minutes. Which is very, very impressive, in my opinion", remarks.
The company started in 2021 in Oslo and it didn't take long to take off. Evan met Balázs first at their former job where the two worked on the same engineering project. "We clicked right away because we were very much on the same page and were solving the same problem", adds Evan. They were only missing a very strong commercial person. Which was solved later when they enrolled into a program at Antler and met their third co-founder, Ingrid.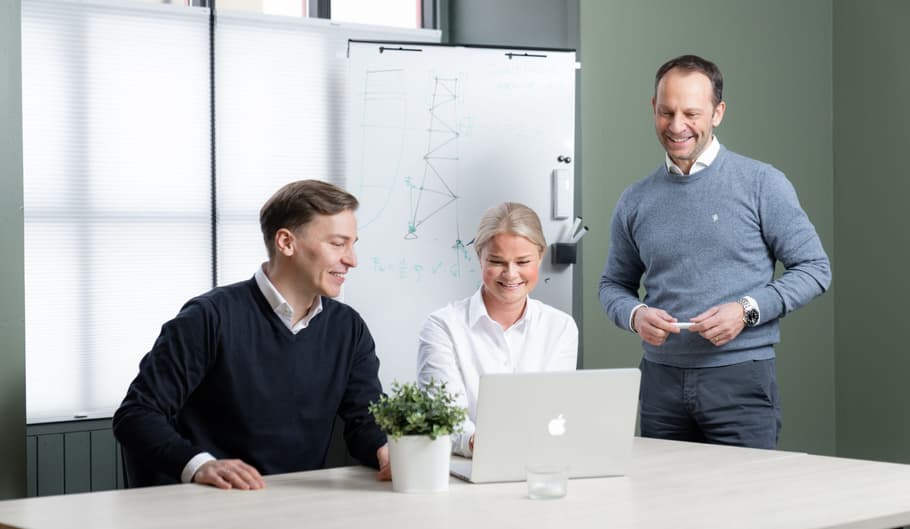 Global experts with an experience from the entire value chain
The co-founders have built a team of experts from eight different countries, in addition to different professional and personal backgrounds. Most of them are now based in Oslo. "We really value this because we feel the diversity helps fuel innovation" says Evan. Since October, the SaaS company is part of RunwayFBU's investment portfolio and have joined the other companies sitting at our Tech Hub, at Fornebu.
"The benefit of course is the people around. Startups that we can communicate and can discuss relatable issues with. Some startups have been around longer than Shapemaker, so it is very interesting to meet different people and discuss issues and maybe avoid some pitfalls. And of course, the Aker infrastructure as well. It is very nice to be in this beautiful office and meet with industry leaders from other companies". explains Evan.
What's next for Shapemaker?
"A development is happening soon; we are planning to green the industry. Basically, reduce the carbon footprint of new telecom structures by 30%. Usually this is hard to achieve but with our technology, it will be possible", celebrates Evan.
Read more about Shapemaker here: https://www.shapemaker.io/